Market Insights February 2023
After a hesitant start to the year, we have seen a noticeable increase in buyer activity over the past couple of weeks. Please see below our outline of the key themes and drivers we are seeing.
The team and I would be delighted to advise on any property search, acquisition or property management requirements you might have.
Best wishes
Jo Eccles
Founder & Managing Director, Eccord
+44 (0) 20 7244 4482
jo.eccles@eccord.com
Shift in buyer focus over the last week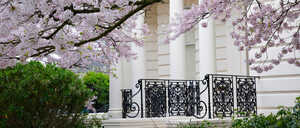 During the first six weeks of the new year, buyers were hesitant and taking their time to make decisions. A number of the leading property lawyers reported an unusually slow start to the year, spending their time finalising already agreed transactions which didn't complete pre-Christmas, but reporting very few new transactions.
However, we have seen a noticeable shift in buyer focus and, in the last week, we have received more than £50m of new buyer enquiries.
Some of these enquiries are seasonal, driven by recent bonus payments and secondary school places being offered. In other cases, buyers have decided now is the right time to press ahead with purchase plans which have been in consideration for some time – or they have been trying unsuccessfully to search on their own and are now ready to enlist professional representation.
We are seeing active buyers fall into two categories.
Firstly, those who are focused, realistic and ready to move on with their next chapter. Whilst maintaining a measured approach, they recognise best in class properties and are agreeing offers which reflect fair value.
Others are actively searching but remain sceptical on pricing, questioning valuations and believing they can secure much larger discounts than are possible; often refusing to accept that many sellers in prime central London are very discretionary. Many believe they are being prioritised by estate agents in the market, whereas in fact their credibility is often in doubt – not from an affordability perspective – but because agents don't trust them to commit to a purchase and see it through.
With credible buyers continuing to be favoured over higher offers, etiquette and positive perception remains critical. We are therefore being even more selective about which buyers we will represent, in order to preserve our reputation and track record for representing buyers we can genuinely vouch for, which is essential in off market transactions and negotiation results which we are so renowned for.
The Bank of Mum and Dad and pied-a-terre buyers are back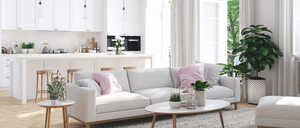 Last year the £5m+ market was a record year in terms of the number and total value of transactions. Reports show 606 transactions in 2022 which is the highest since records began in 2006, and the total value was 13% more than 2021 which was a record year.
The sub £5m market last year was however much more subdued. Supply has been plentiful and very few buyers have been active. However, we have seen demand increase over the past weeks.
Whilst buy to let landlords remain absent and we expect this to continue, we are seeing appetite return from international buyers seeking a London base and domestic pied a terre buyers who are now coming into the office more regularly.
Domestic and international banks of Mum and Dad are also noticeably active, many of whom are buying properties between £1m - £5m for grown up children to set them up in their first home and, at the same time, reduce future inheritance tax liabilities. Popular locations include Fulham, Kensington, Notting Hill and Clerkenwell.
This being said, all of these buyers are discerning and focusing solely on best in class turnkey properties which have outside space and are well located. Many are paying 100% cash and we have seen a number of multiple bid situations. This is in stark contrast to the oversupply of non-best in class properties, which are attracting very little interest as a result.
Landlords streamline portfolios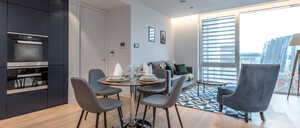 We expect the oversupply of flats to increase, as landlords consolidate their portfolios and consider offloading underperforming assets over the coming 12 months.
Whilst rents remain at record highs, which has increased gross yields, net yields continue to be low. Post-covid, tenants are more demanding as they are at home more often and insisting on a greater degree of maintenance, which might have otherwise gone unnoticed or been tolerated. In addition, landlords are having to accept higher costs for contractors, materials and parts, and other expenses such as service charges.
February has been a month of frank conversations with landlords who are re-evaluating their investments. Many bought close to or after the 2014 peak and their properties have delivered little or no capital growth, and they are making the difficult decision whether to cut their losses and sell for less than they paid.
We believe capital growth for many sub £5m flats will be limited over the next 3 years and this is playing into individual landlords' and family offices' decisions to consolidate their assets, deleverage and release capital to invest elsewhere.
For those landlords opting to retain their property investments and lean into the strong rental market, we are advising them to focus on net returns and keep good quality, tried and tested tenants in place. Even if a higher gross rent can potentially be achieved from a new tenant, the costs and uncertainty of going back to the market can often result in only a marginal increase to the net yield.
Buyers shun refurbishment projects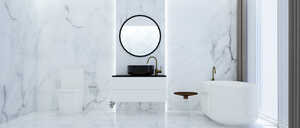 Major refurbishment projects are out of favour with buyers, who are being deterred by delays to build schedules, labour shortages and 30% higher construction costs. Premiums are therefore being paid for genuine turnkey properties in return for the certainty and immediacy they provide.
Many buyers are reluctantly accepting the need to do refurbishment for the right property, as a large proportion of stock is in average condition, having been lived in or rented out for long periods. But they are shying away from big renovation projects if they have the choice.
The exception tends to be our ultra high net worth clients buying trophy homes for £15 million upwards, who don't need to sell their current home to buy an onward property. They have the affordability to commit to a large project and can stay living where they are for the duration of the project, with no interim upheaval.
We are seeing the biggest challenge with sellers disposing of mid-condition properties. Whilst the property is habitable, active buyers are generally unwilling to move into mid-condition properties. Despite a refurbishment project being unappealing, their preference is to undertake complete works at the outset, to avoid the inconvenience of moving out to do so at a later stage. Therefore, sellers of mid-condition properties in particular are having to be more flexible on price and accept lower offers to factor in an immediate refurbishment, even though the works aren't always technically required.
For 16 years Eccord has been trusted by private clients, family offices and international companies to provide residential search, acquisition, relocation and property management services.
Our award-winning team since has successfully acquired over 400 properties and manages a portfolio of more than £1.5 billion of rental properties and private homes.
T: +44 (0)20 7244 4485
E: enquire@eccord.com